Sara E. Mirabilio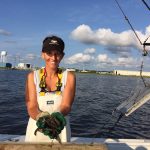 Sara E. Mirabilio
Fisheries Extension Specialist
North Carolina Sea Grant
Office: Room no. 216
850 NC 345, Wanchese, NC 27981
Phone: 252-475-5488
Fax: 252-475-3545
Email: saram@csi.northcarolina.edu
Bio
Mirabilio develops educational programs and materials relating to commercial, recreational and for-hire fisheries.  She also conducts cooperative research and transfers technologies that keep the domestic seafood and for-hire fishing industries financially competitive and environmentally responsible.
On the side, Mirabilio is as an instructor for North Carolina State University's Natural Resources Leadership Institute, or NRLI, on natural resource collaborative processes, particularly those that result in greater trust among user groups and in use of both scientific and traditional ecological knowledge in fishery policy development.  She is a 2005 graduate of the NRLI program.
Prior to joining Sea Grant in August 2003, Mirabilio served as a John A. Knauss Marine Policy Fellow at the National Oceanic and Atmospheric Administration's National Sea Grant Office and was a program analyst for NOAA Ocean Service's Chief Scientist.
Education
---
South Atlantic Shrimp Fishery Observer & Vessel Safety Training, January 2009
NOAA Fisheries Service Galveston Laboratory, Galveston, Texas
Natural Resources Leadership Development Program, June 2005
Natural Resources Leadership Institute, North Carolina State University, Raleigh, North Carolina
Practicum: "Utilization of Cultural Models and Collaborative Learning to Advance Management of the North Carolina Blue Crab (Callinectes sapidus) Fishery"
Master of Science in Marine Science, 2001, GPA: 3.90 / 4.0
The College of William & Mary/Virginia Institute of Marine Science, Gloucester Point, Virginia
Thesis: "Vitellogenin: A Biomarker of Exposure to Environmental Estrogens for Mummichog (Fundulus heteroclitus) from a Creosote-Contaminated Site?"
Bachelor of Science in Marine Science, 1998, summa cum laude and with honors diploma, GPA: 3.97 / 4.0
Long Island University, Southampton College, Southampton, New York
Honors Thesis: "Examination of Goodyear's (1972) Technique for Behavioral Toxicity Testing: Determining the Effects of Chronic Sublethal Methylmercury Exposure on the Predator-Prey Relationship between Largemouth Bass (Micropterus salmoides) and Mosquitofish (Gambusia a. holbrooki)"
U.S. Coast Guard Auxiliary Boating Skills & Seamanship, May 1998
Long Island University, Southampton College, Southampton, New York
PADI Open Water Diver, August 1995
Peconic SCUBA, Riverhead, New York
Projects
---
Mirabilio's ongoing work includes cultivating cooperative research with the commercial and recreational fishing industries particularly on bycatch reduction.  In 2011, Mirabilio received the Governor's Conservation Achievement Award Program's Natural Resources Scientist of the Year Award for her research with industry to test a modified turtle excluder device in the summer flounder winter ocean trawl fishery.
She also continues to assist commercial fishermen and seafood distributors employ market research tools to deliver seafood products desired by consumers.  Mirabilio, along with Sea Grant extension personnel Nash and Baker, are working to create North Carolina market opportunities for spiny dogfish, or Cape shark, by assisting industry and restaurant partners in developing high-quality and novel-related products that resonate with North Carolina consumers' palates, and are easy to prepare in homes or restaurants.
Personal Interests
---
Mirabilio enjoys sailing traditional watercraft, and is one of only two skippers for the reproduction North Carolina shad boat, The Spirit of Roanoke Island, berthed at the Roanoke Island Maritime Museum.  She also is the main mast captain for Roanoke Island Festival Park's Elizabeth II, a reproduction of the 16th-century sailing vessel that brought the 1587 colonists to Roanoke Island.  More recently, Mirabilio began long-distance running, completing numerous races over the years including the Outer Banks Half Marathon in 2009, 2011 and 2016.
Publication and Outreach Products (select)
---
Mirabilio, S.E., and M.S. Baker, Jr.  2015.  Protected Species and NC Commercial Fisheries: Observers and Federal Permits Maintain Access to Traditional Fisheries.  North Carolina Sea Grant, Raleigh, NC.  4 pp.
Nash, J.B., Mirabilio, S.E., and M.S. Baker, Jr.  2014.  Developing Commercial Identities to Raise Awareness of Local Seafood.  Journal of Extension.  52(5).  1 pp.
Mirabilio, S.E., and M.S. Baker, Jr.  2006.  Fisheries Management and You: A Guide to Public Involvement in North Carolina Marine Fisheries Management.  North Carolina Sea Grant, Raleigh, NC.  8 pp