CSI and ECU Faculty Publish Paper on Coastal Adaptation in Pacific Island Nations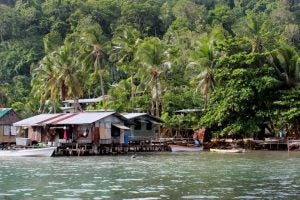 In a just-published paper, Drs. Siddarth Narayan and Nadine Heck, along with an international team of collaborators, examine how communities affected by coastal hazards choose to adapt. By analyzing data collected from coastal communities in four Pacific island nations over a series of workshops, interviews, and focus groups, the team reveals that people living on the coastline often choose to stay at the coastline even in the face of severe erosion or storms.
In contrast to reports of extensive migration away from coastlines, communities in this study have strong ties to the ocean and overwhelmingly choose protective adaptation strategies that help preserve their livelihoods, assets and cultural practices at the coastline.  "What  I found most revealing about these data was that the coastal communities often choose to stay, even in the face of severe hazards, and do so by combining solutions.", states Narayan.  In addition to safety, most communities surveyed in this study consider multiple priorities in addition to safety from hazards, which can influence their final choice of adaptation strategy. For example, preserving the natural ecosystem and improving local capacities for adaptation and resilience were identified as priorities when selecting adaptation strategies.
In 85% of locations in this study, communities would ideally prefer hard solutions like seawalls due to the high vulnerability to coastal hazards. Yet, these solutions are often difficult to implement, particularly for remote locations where access to material, labor, and technical expertise can be difficult. Ecosystem-based adaptation – i.e. using natural features such as mangroves to protect the shoreline are, in fact, the most commonly implemented type of solution. These solutions can be quickly and easily put in place by the affected community and provide important co-benefits in addition to coastal protection.  The team was fascinated by the way communities choose their adaptation strategies.  "It was revealing how adaptation choices are deeply embedded within local social and cultural contexts. Local preferences can often dictate an adaptation choice in ways that we do not yet fully understand.", noted Heck.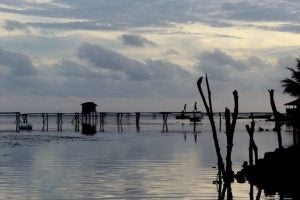 The themes that emerge from these findings, of staying at the coastline in the face of hazards, preserving natural ecosystems as a first line of defense, and choosing options that rely on local materials and capacity, are in fact, being observed across the world, and right here in the barrier island communities of Ocracoke, Hatteras and the rest of the Outer Banks. The findings from this study raise important and interesting research questions, including understanding how local choices with regard to coastal adaptation and conservation of ecosystems may change in the future, as sea-levels continue to rise.
Drs. Siddarth Narayan and Nadine Heck are newly hired faculty in ECU's Department of Coastal Studies, an interdisciplinary department with faculty in the natural and social sciences, engineering and health.
The recently published paper can be found  at the following link:
https://www.sciencedirect.com/science/article/pii/S1462901119300097?via%3Dihub
Citation: Narayan, S., Esteban, M., Albert, S., Jamero, M.L., Crichton, R., Heck, N., Goby, G. and Jupiter, S., 2020. Local adaptation responses to coastal hazards in small island communities: insights from 4 Pacific nations. Environmental Science & Policy, 104, pp.199-207.