ECU Outer Banks Campus
---
ECU's Outer Banks Campus is located along the second largest estuary in the United States, an iconic barrier island chain and an energetic and productive coastal ocean. Our coastal campus spans 213 acres of marshes, scrub wetlands, forested wetlands, and estuarine ecosystems and is home to the Coastal Studies Institute www.coastalstudiesinstitute.org.
The Coastal Studies Institute (CSI) is a multi-institutional research and education partnership of the UNC system. Led by East Carolina University, in partnership with NC State and UNC-Chapel Hill, the Coastal Studies Institute focuses on integrated coastal research and education programming centered on responding to the needs, issues, and topics of concern of the residents of eastern North Carolina. CSI research integrates the natural and social sciences and brings together researchers from different disciplines to answer pressing coastal questions.
CSI research spans a variety of coastal topics from nearshore coastal estuaries to the offshore waters along the continental shelf. Coastal scientists are researching the processes that drive coastal systems, their effect on our communities and ways we can become more resilient in the face of increasing hazards that threaten our coast. Ecologists are studying our estuarine systems, their inputs and how we can ensure healthy coastal ecosystems for the future. Oceanographers and coastal engineers are exploring how ways to harness the power of the Gulf Stream and other renewable ocean energy sources to broaden North Carolina's energy portfolio. Maritime archaeologists are uncovering and discovering new shipwrecks and celebrating the vast maritime heritage of eastern North Carolina.
Our Home
---
The campus, completed in 2012 and awarded the LEED Gold Certification, demonstrates how architecture can seamlessly develop a relationship with the surrounding ecosystem. CSI was also awarded:
2014 Chicago Athenaeum International Architecture Award for Best New Global Design

2014 AIA Triangle Honor Award

2013 AIA North Carolina Honor Award

2013 USGBC North Carolina Sustainability Award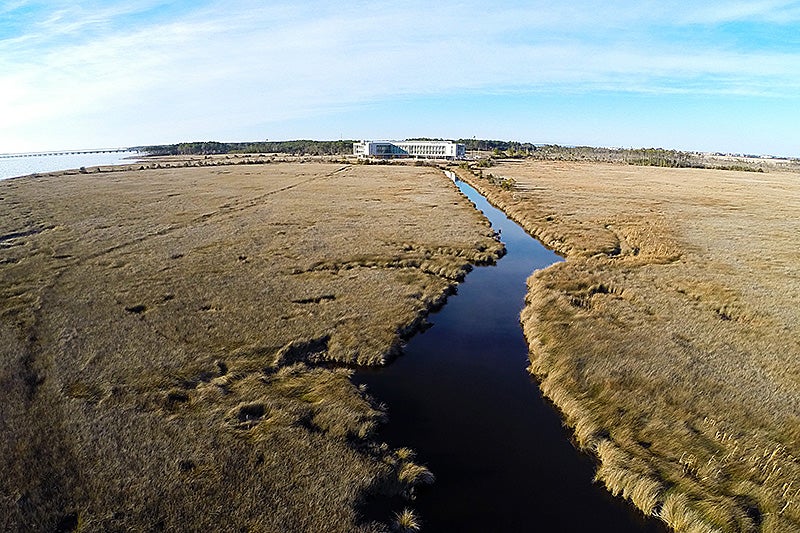 The campus spans 213 acres of marshes, scrub wetlands, forested wetlands, and sound ecosystems. While the institute emphasizes northeastern North Carolina in its outreach and educational programs, its scope also encompasses all of the eastern coast of the United States and the mid-Atlantic. Research at CSI covers a broad range of pressing environmental concerns faced by coastal North Carolina and the delicate ecosystems that are present. By bringing together skilled professionals, scientists, academics, and locals to the North Carolina coast, CSI can provide unbiased research to decision-makers of the area, resource managers, and the public.
CSI's research
---
Research at the Coastal Studies Institute focuses on solving complex problems across the coastal zone. Our team of interdisciplinary researchers has a broad diversity of scientific expertise. Our research provides stakeholders with valuable insight and data on environmentally and culturally important issues. These data inform and guide important decisions regarding coastal management. Research Focus Areas include: