Terri Kirby Hathaway, M.A.Ed.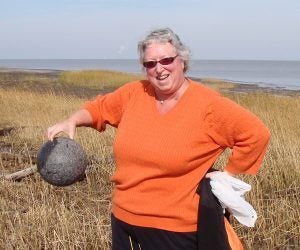 Terri Kirby Hathaway, M.A.Ed.
Marine Education Specialist
North Carolina Sea Grant
Office:
Room No. 212
850 NC 345, Wanchese, NC 27981
Phone: 252-475-5486
Email: terrikh@csi.northcarolina.edu
Bio
Terri Kirby Hathaway has been the Marine Education Specialist for North Carolina Sea Grant since October 2003, sharing her knowledge of ocean sciences and aquatic environments with educators statewide. Prior to that, she was the Education Curator at the NC Aquarium on Roanoke Island for 18.5 years. Terri is active in state, regional, and national professional organizations, presenting at various conferences and instructing at professional development workshops. In addition, she is a co-author for "North Carolina's Amazing Coast" which features habitats, flora, and fauna from the state's coastal areas. She and her oceanographer husband live in Southern Shores, NC with their four rambunctious cats!
Education
---
B.S. Marine Biology, University of North Carolina at Wilmington, 1979
MAEd Science Education, East Carolina University, 1999
Projects
---
Terri is developing an elementary curriculum to accompany "North Carolina's Amazing Coast", creating new marine education offerings across the state of NC and increasing marine/aquatic knowledge of educators in NC.
Personal Interests
---
Terri enjoys beachcombing, reading, traveling, jewelry making, walking, cooking (and eating).
Terri's research interests include marine education curriculum use in elementary classrooms, needs assessments of elementary teachers and microplastics.
Presentations
---
Scotch Bonnet; marine education newsletter for educators; 40 issues since 2004; print 2004-2009; online Autumn 2009-present https://ncseagrant.ncsu.edu/scotchbonnet/
Hathaway, TK. (2017) "Out Summer of Content." Coastal Currents online blog. https://ncseagrant.ncsu.edu/currents/2017/01/our-summer-of-content/
Hathaway, TK. (2016) "An Invasion of the Naked Sea Butterflies." Coastal Currents online blog. https://ncseagrant.ncsu.edu/currents/2016/08/an-invasion-of-the-naked-sea-butterflies/
Hathaway, TK. (2016) "STEAM on the Coast." Coastal Currents online blog. https://ncseagrant.ncsu.edu/currents/2016/05/steam-on-the-coast/